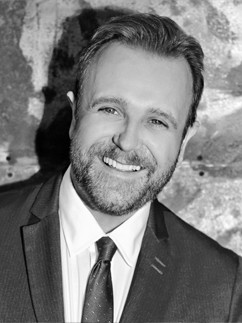 Michael Londra
Emmy Nominated Singer
Emmy®-nominated, Irish singer/songwriter Michael Londra is from the opera capital of Ireland. He decided in his early 30s to follow his heart and pursue a professional singing career. His leap of faith was rewarded when he soon became a leading man in musical theatre in Dublin playing many roles. US director and choreographer Larry Fuller asked Michael to play Bobby Kennedy in the world premier of "JFK" where he was noticed by the producers of Riverdance. 
He was offered the role of lead singer in the US National Tour which included performances at Radio City Music Hall and the MGM Grand in Las Vegas. In March 2000, Michael was again offered the position of lead singer in the new production of Riverdance on Broadway, taking the role from acclaimed Irish singer Brian Kennedy. This was the platform from which Michael's recording and producing career began.
Michael's first album "Celt" was produced by the world renowned Steve Skinner who co-produced the Grammy nominated soundtrack of RENT. The album was released in 15 countries worldwide selling particularly well in Korea where it reached No 1 in the World Music Charts. He appears with Pavarotti, Bocelli, Il Divo, Sarah Brightman and Kathryn Jenkins on the Universal Records Asia 2009 release Arias : Ancora.
His recording of Danny Boy was described by The Irish Emigrant in New York as "One of the best recordings of Danny Boy in history". The Youtube video of this recording has been downloaded by 7 million people.
Chatting with Michael, his love for Wexford is palpable, he says. "My whole identity is built on Wexford town. While my father is a Kilkenny man, my mother was born and reared in Maudlintown, Wexford. My whole childhood was spent in the heart of the town itself. Even though I live in the USA, I am deeply connected to the town and can't stay away for longer than a few months.
Wexford was the ideal town to grow up in, as a singer. The heart of the town for me, was the Theatre Royal. It is where I learned about music and performing. I loved as a kid that I lived by the sea and the maritime influences. My earliest memory is listening to seagulls first thing in the morning. I have probably more romantic impressions of my childhood, living so far away but to me it was fairly idyllic. The town itself and the people living in it have always been open to the world outside so I remember seeing foreigners come especially for the Festival Opera and I think it gave me wanderlust."
FOR ME, THERE IS NOWHERE LIKE WEXFORD. IT HAS A QUALITY THAT VERY FEW TOWNS HOLD.
Michael thinks that Wexford has discovered its strengths over the years and built on them. "The cultural spine of the town has been realised with the crown of the National Opera House in the heart of it all."
"For me, there is nowhere like Wexford. It has a quality that very few towns hold. Over the years, it has been almost a well kept secret but that has changed in recent years. The town itself obviously has its musical charms along with a rich tapestry of history from Viking to Norman. A few miles away you have some of the best beaches in Ireland. The shopping and restaurants dotted along our Main Street are second to none. I am bringing a tour of North Americans and Australians this year and I know they will be blown away by the place."
Michael is a proud Wexford Ambassador, commenting on this official role as such, "I always saw myself as an ambassador for the town. Not out of responsibility but out of a genuine love and appreciation for the place. When I was approached I honestly just thought that it was a natural fit.
I talk about the town and county at every show I do. Whenever a newspaper does a story or I do a TV or radio interview, I make Wexford a part of the conversation. It is part of my identity. Internationally we have lost out to other parts of Ireland but now I feel like we are part of the conversation and people are coming to visit. I have no place in Irish media at home but I get a fair amount of attention in other countries. Whenever you read or hear about Michael Londra, you will also hear about Wexford. It's a given."
Michael is indeed partnering his love of Wexford with his new venture as a theatre producer, with Venuworks Theatricals. "Venuworks is a large US based company, managing arenas, theatres and conference centres across the US. The CEO and I have partnered to produce shows for Broadway and national touring. Our first project is a new musical, written by my lifelong pal Eoin Colfer and another Wexford based composer, Liam Bates. The world premiere of the show will be staged in the National Opera House in December with a tour in the US in 2017 and beyond. Organically, it is a great fit and we have the facilities, talent and know-how to premier it in Wexford. Broadway agents and tastemakers will be flying in to see the show and we have big plans for it."
Did You Know?

The D-Day landing scenes from the movie Saving Private Ryan (1998) were filmed on Ballinesker Beach in County Wexford. Filming on the beach began in June of 1997 and it is estimated that the equivalent of nearly €5 million was injected into the local economy as a result.