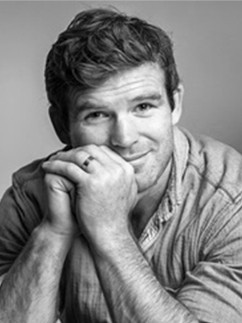 Gordan D'Arcy
Irish Rugby International
"No regrets," was the message sent out by Gordon D'Arcy when he called time on his stunning rugby career at the end of the 2014-2015 season and, when you take a quick glance at his record since his formative years in Wexford and as a young sports-mad boy in the local playing fields, it's not hard to understand why he wouldn't change a thing. 
A Grand Slam and several triple crowns during an 81-cap stretch with an Ireland team which had just emerged from a wilderness period, world cups, a tour of South Africa with the British and Irish Lions, not to mention three Heineken Cup successes with Leinster: some of the many highlights in the life of this Wexford Ambassador who speaks glowingly of his home town and home county.
The record of Gordon D'Arcy for club and country, ever since he first lined out with progressive local club Wexford Wanderers and also for Clongowes Wood College in secondary school, will remain one of our country's best for decades to come.
His roots are in Ferns, then Enniscorthy, before he came to call Wexford town home after moving there with parents John and Peggy, and he easily remembers those days when he wanted to spend all of his spare time playing sport – of any sort.
"I might have been getting my school books or English homework ready but I'd never forget my hurl. Like all boys in Wexford, it was hurling through and through. A few months before going to Clongowes, my Dad thought it would be a good idea to go out and try rugby. He describes his experience in the renowned Clongowes Wood as "brilliant," a time when he not only polished his rugby skills and developed his sporting potential but learned much about the adult world: "Little things about treating people with respect and being humble and thinking about other people, and it's something that's stuck with me throughout my life."
EVERY TIME I GO HOME I DRIVE BY FERNS AND IT'S LIKE A TRIP DOWN MEMORY LANE.
From under-12 level right through to senior, Wexford Wanderers was his first rugby club and it's one for which he has high praise. "What every club should be is part of a community and the underage is run by parents and run by coaches who give up their time. It's not about trying to be all about winning, it's all about the social place in the community and that's really really important, getting people out to play rugby and making sure they enjoy it."
Wexford Wanderers is one of those clubs, which uses sport as a way of breaking down barriers across the community, Gordon points out. "It's really good for kids to develop those social skills."
His own skills on the pitch led to early recognition from Leinster and, before long, the Irish international set-up and his arrival to the top level helped usher in a new period of unprecedented success for an Ireland squad which spent much of the 1990s in the doldrums.
Triple crowns and, in 2009, only the country's second ever Grand Slam followed, along with those Heineken Cup medals with Leinster and while he was quite young when he made his World Cup debut in 1999 and missed that of 2003 through injury, he played a full role in the 2007 and 2011 tournaments.
"2007 was 2007," he says in relation to that disastrous outing when Ireland were fancied to go a long way but ended up crashing out at the pool stage with heavy losses to France and Argentina. "2011 was enjoyable and really good," he remembers about that year's World Cup when Ireland beat Australia on the way to a quarter-final against Wales when nothing went right. "In the last match we just got our tactics wrong and got selections wrong and probably didn't play championship rugby. They're the what-ifs."
On a personal level, Gordon's wife Aoife Cogan gave birth to the couple's first child, daughter Soleil, in May of last year and their business interests have made it a busy time.
Life for Gordon after his professional rugby career allows him to spend more time in his native area. Supporting the Weford hurlers will always be a priority, he says, while he admires progressive local businesspeople like James O'Connor of Greenacres wine shop, restaurant and art gallery, Liam Griffin and family of the Griffin Hotel Group, the Kelly family of Kelly's Hotel in Rosslare, and others, and keeps up to date with cultural moves such as developments with Wexford Festival Opera.
"Every time I go home I drive by Ferns and it's like a trip down memory lane. I'm very lucky because I had a really good childhood and Wexford is that nice mix of a centralised urban area and also has the rural element."
Did You Know?

The D-Day landing scenes from the movie Saving Private Ryan (1998) were filmed on Ballinesker Beach in County Wexford. Filming on the beach began in June of 1997 and it is estimated that the equivalent of nearly €5 million was injected into the local economy as a result.