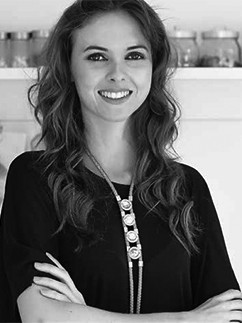 Bláithín Ennis
Jewellery Designer
Often a leap of faith and courage is what's needed to transform a great idea into a great business and that's something that jewellery designer Bláithín Ennis performed when she established her own label within a year of graduating from college.
Railing against any negativity and despair still washing around the country from the worst days of the recession, this exciting designer and manufacturer of unique, contemporary jewellery pieces has worked with New York designer Diane Von Fursternburg and then saw her own creations going down a treat when it came to selling them at markets, showcases and outlets.
Now she has her own, eponymously named studio a stone's throw from the beautiful north Wexford coastline at Ballymoney, close to the bustling town of Gorey.
Within a short couple of years of launching her first collection Bláithín Ennis designs can be found around the world.
In 2014 she won Jewellery Designer of the Year at the Fashion Innovation Awards in Galway and took home the Wexford Young Entrepreneur of the Year award. Last year she was a cultural ambassador for the Three Sisters – Kilkenny, Waterford and Wexford– in their bid to become European Capital of Culture in 2020. She has been showing sellout collections at Create in Brown Thomas in both Dublin and Galway for the past two years and now has 40 stockists nationwide. At her fourth Showcase, she secured further customers including three in Sweden and one in the US and she now has ambitious plans to export. She has built up a significant reputation for herself from her base in her native Co Wexford.
"At the moment the ready-towear jewellery pieces are what I am mainly focusing on," she says. "I deal mainly in the market of selling to shops and I also have an online presence. My ethos as a designer is to have a contemporary jewellery and accessory range. I like to make unique accessories that can give a new lease of life to a simple garment."
Bláithín sources all of her materials herself, from many parts of the world, and then combines and manipulates them to create striking pieces of jewellery and couture accessories.
For example, her Topaz collection features pieces with a sterling silver or gold-plated finish, with a brilliant gem sparkle, making them much sought-after among those who appreciate contemporary, unique style. "Price point is important to me," she adds. "I don't want to be a designer associated with high prices. My customers appreciate hand-made items and like to buy Irish design, so it's anything from about €35 and upwards to purchase one of my pieces. They're reasonably-priced."
At the moment my focus is the home market but this year I'm planning to move towards the UK market
Bláithín graduated from the National College of Art and Design following an intense, packed course which she describes as "a daunting experience" and, after her stint in New York, was offered a number of design jobs. However, she decided to stay close to her roots.
Her interest in gardening helped achieve her first big break at the Springmount Garden Design Fair in Ballycanew where shortly after her return from the US she showed a small collection of fashion jewellery using what was to become her signature – delicate mesh and crystal – in cuffs, belts and earrings. "It got a phenomenal reaction", she says, "and sold out, so I had to go home and make more. The seeds to my business were planted in that garden centre." So, the decision to start her own studio and retail business was born.
She operated out of the renowned independent boutique, Place, in Gorey with designer and artist Juliana Walters whose concept Place was, and that proved an important step for Bláithín. "She's a wonderful person," the jewellery designer says now of Juliana. "She has a really good eye for unusual objects and I learned an awful lot from working alongside her. She was also my first ever stockist and really liked my pieces."
The Wexford County Enterprise Board also came along with support and Bláithín was soon heading for her first trade show at Showcase Ireland in 2013, picking up valuable business from the likes of the Kilkenny Shop in Dublin's Nassau Street and the Fran & Jane collection of boutiques.
Since then, she's seen her pieces worn by the likes of Nicole Scherzinger from the Pussycat Dolls, and X-Factor judge; had 15 of her designs selected by Brown Thomas fashion director Shelly Corkery; while the accolades have grown and grown.
"At the moment my focus is the home market but this year I'm planning to move towards the UK market," she says of her current plans. "I have to say all of the local support I've received has been really fabulous. I'm one of these people who doesn't like to pressurise my friends or family or anything, showing them my collections, but there is a customer base out there and if they like it they'll buy it."
Having attended college in Dublin for four years, she appreciates being out of urban life and back in Co Wexford, yet less than an hour from the capital on the nearby road network. "I find it very inspiring living in the country and I'm just better designing in quiet and calm," she explains. "There are fabulous amenities here, like the beaches and even the local hotels. It's a really nice place to live."
Did You Know?
The D-Day landing scenes from the movie Saving Private Ryan (1998) were filmed on Ballinesker Beach in County Wexford. Filming on the beach began in June of 1997 and it is estimated that the equivalent of nearly €5 million was injected into the local economy as a result.